In Stock
Serenity Shiatsu Massage Cushion with Sound & Meditation
FREE shipping on orders over $50!
Ships Immediately!
See details
The Serenity Shiatsu Massage Cushion with Sound & Meditation brings a customized massage session to you without having to leave your home. Use the exclusive app for features like guided meditations and soothing music. Choose between three massage zones that allow you to concentrate the massage to your upper, lower or entire back. The added bonus of soothing heat in the neck, back and seat offers the ultimate comfort experience. An included programed controller means you can still control your massager even when your phone has died, or if your feeling lazy and don't want to go grab your phone off your kitchen counter.
Bluetooth®-enabled cushion connects with the HoMedics® Massage App, letting you enhance your massage experience with meditations and soothing sounds.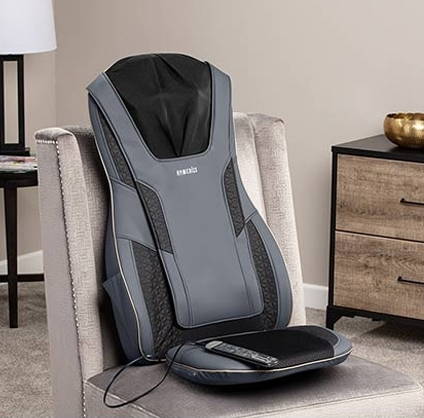 Combat aches and pains with shiatsu, rolling, tapping, shiatsu & tapping, and seat vibration.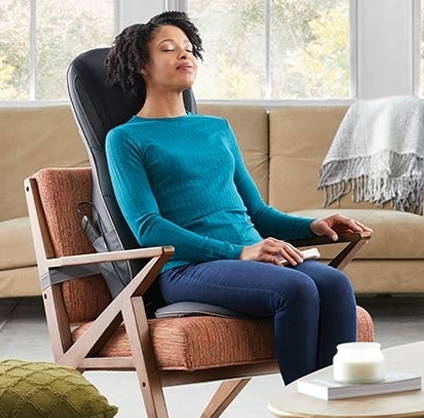 Relax your way with the traveling neck and shoulder mechanism and spot massage feature. Incredibly lifelike massage feels like the hands of a trained expert and added soothing heat for a bonus.
The Serenity Shiatsu Massage Cushion with Sound & Meditation from HoMedics® was designed to put your mind at rest while simultaneously treating your sore spots with therapeutic massage. Connect the cushion's Bluetooth feature to the HoMedics Massage App on your smartphone, then choose from several meditation programs that provide physical relief while soothing and stimulating your consciousness. You can even use the app to create your own unique massage program for customized relief. Or, simply enjoy 15 minutes of remarkably soothing sounds while the cushion does its work on your back, neck and shoulders.
Adjust the neck and shoulder massage to your exact height, then let its traveling mechanism work wonders to release your pain. Or, choose spot massage and target particularly painful areas. With 5 massage styles to choose from, there's no shortage of options to decide what style feels best on any given day. You can even reverse the neck and shoulder massage direction anytime for a more lifelike feel. Top off your relief by activating the soothing heat to further free you from aches and help you feel the most limber and relaxed you've been in ages. Includes a programmed controller and integrated strapping system to fit most chairs.
Exclusive Massage App with:
Soothing music

Guided meditations

Pre-programmed massages

Customization tools
4 Relaxing Back-Massage Styles:
Deep-kneading shiatsu

Gentle rolling

Invigorating percussion

Shiatsu & percussion combined
Neck & Shoulder Massage Mechanism
1. Head-to-Toe Relaxation
Choose between 3 massage zones, as well as bonus neck massage feature
2. Stays in Place
Integrated straps turn any chair into an in-home spa and massage experience
3. Soothing Heat
Soothe tired muscles with the heat feature
4. Removable Intensity Flap
Control the intensity of your massage with the removable intensity flap
5. 2 Ways to Control
Control your massager by using the built-in remote or the easy-to-use app on your smartphone
6. Keep the Cord in One Place
Store the cord in the built-in storage compartment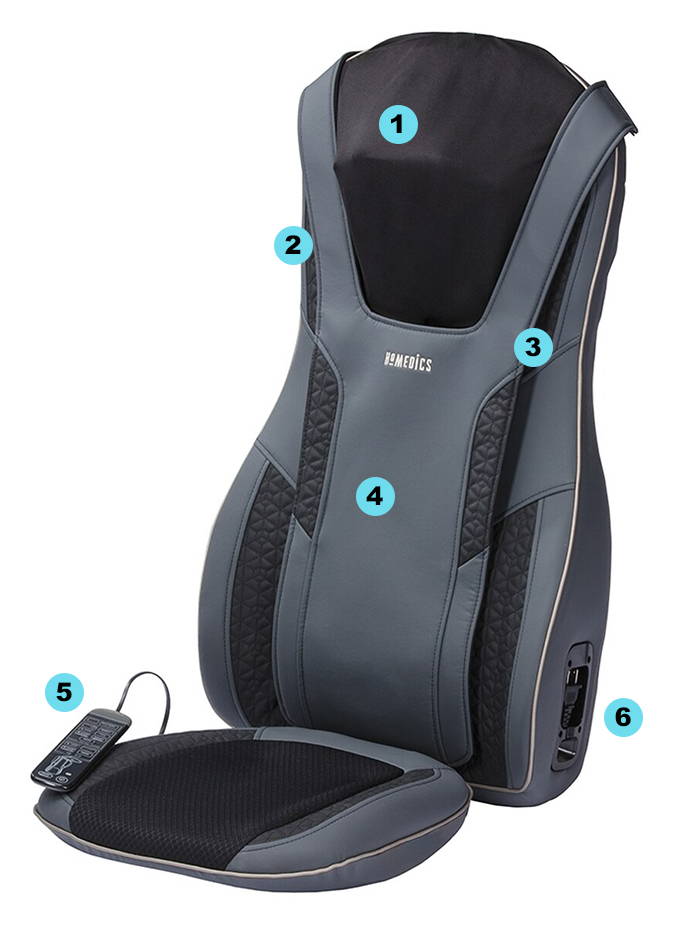 Massage Style: Range of Intensity
See what amazing massage style your HoMedics® massage product offers. Then, consult our chart to learn what range of sensation to expect during use.
Mild-to-moderate pulsation for releasing tension and loosening tight muscles
Gentle, relaxing massage typically in a "wave" motion
Target one specific area for a firmer, more-concentrated massage
Pushes up or down with firm pressure to provide comfort
Simulates finger pressure in a circular motion, plus stretching techniques. Can range from light to intense.
Vigorously pulls, works, and loosens muscles
Intense, rhythmic pressure offers a deep, invigorating massage