Product Details
GEL-TOUCH TECHNOLOGY: The soft-touch comfort gel nodes perform at a professional massage level to give you ultimate relief. Kick your feet up as the 6 nodes deliver a gentle shiatsu experience.
SOOTHING HEAT: Watch as the gel nodes illuminate red while they warm up to surround your feet with gentle heat. Heat function can only be used during the active massage.
EASY TO OPERATE: Avoid having to bend down with integrated toe-touch controls that make powering your massage off and on simple. Press the power button once to turn on, twice to add the heat feature, and a third time to turn off.
CONVENIENT AND COST-EFFECTIVE: Save money by skipping out on spa appointments and creating a relaxing, spa-like experience in the comfort of your own home. Easily transport your foot massager to any room of your home or office.
WHAT'S IN THE BOX: (1) HoMedics Gentle Touch Gel Foot Massager with Heat, (1) Quick-Start Guide, (1) 1-Year Warranty
The soft-touch comfort gel nodes perform at a professional massage level to give you ultimate relief. Kick your feet up as the 6 nodes deliver a gentle shiatsu experience.
Watch as the gel nodes illuminate red while they warm up to surround your feet with gentle heat. Heat function can only be used during the active massage.
Avoid having to bend down with integrated toe-touch controls that make powering your massage off and on simple. Press the power button once to turn on, twice to add the heat feature, and a third time to turn off.
CONVENIENT AND COST-EFFECTIVE
Save money by skipping out on spa appointments and creating a relaxing, spa-like experience in the comfort of your own home. Easily transport your foot massager to any room of your home or office.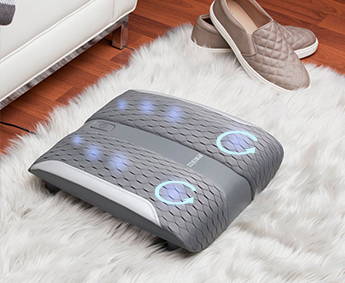 Give your feet a professional-quality massage with 6 soft-touch gel nodes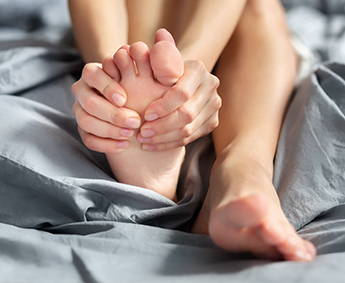 Nodes will illuminate red as they melt your aches and pains away and soothe sore muscles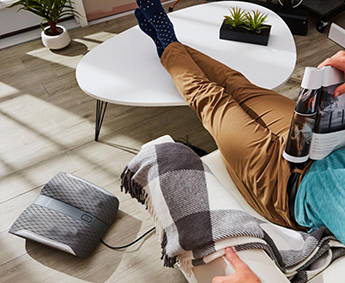 Convenient toe-touch controls mean never bending down and interrupting your massage
Massage Style: Range of Intensity
See what amazing massage style your HoMedics® massage product offers. Then, consult our chart to learn what range of sensation to expect during use.
Mild-to-moderate pulsation for releasing tension and loosening tight muscles
Gentle, relaxing massage typically in a "wave" motion
Target one specific area for a firmer, more-concentrated massage
Pushes up or down with firm pressure to provide comfort
Simulates finger pressure in a circular motion, plus stretching techniques. Can range from light to intense.
Vigorously pulls, works, and loosens muscles
Intense, rhythmic pressure offers a deep, invigorating massage
Instruction Manuals
& Warranty Info
FMS273 Instruction Manual & Warranty Pages
PDF, 2 MB, 18 pages
Download