In Stock
Double-Barrel Total Body Massager
FREE shipping on orders over $50!
Ships Immediately!
See details
High-intensity vibration massage
Cordless portability
Dual removable straps
Rechargeable battery
Perfect for post-exercise recovery
Great for back, shoulder, or full body
The HoMedics® Double-Barrel Body Massager allows you to comfortably massage your entire back or any achy body part with the use of dual, removable straps. The high-intensity vibration warms muscles, encouraging relaxation and a wider range of motion after a tough workout.
Portable with a rechargeable battery so you can relax and rejuvenate muscles from just about anywhere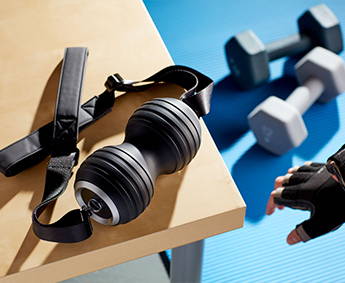 Use it before a workout to warm up your muscles and after exercising to enhance recovery and range of motion
Massage your legs, arms, and feet by removing the straps and using your floor, wall, or hand to hold it in place
Massage Style: Range of Intensity
See what amazing massage style your HoMedics® massage product offers. Then, consult our chart to learn what range of sensation to expect during use.
Mild-to-moderate pulsation for releasing tension and loosening tight muscles
Gentle, relaxing massage typically in a "wave" motion
Target one specific area for a firmer, more-concentrated massage
Pushes up or down with firm pressure to provide comfort
Simulates finger pressure in a circular motion, plus stretching techniques. Can range from light to intense.
Vigorously pulls, works, and loosens muscles
Intense, rhythmic pressure offers a deep, invigorating massage